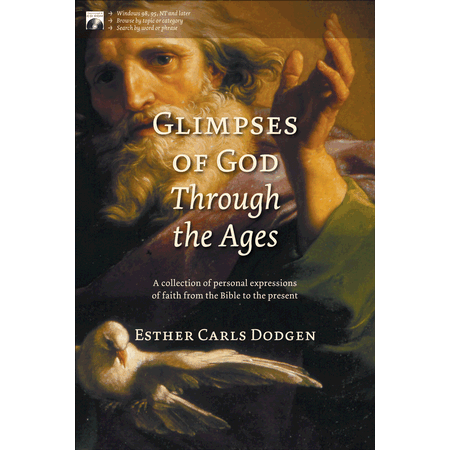 GLIMPSES OF GOD THROUGH THE AGES (with CD-ROM) by Esther Carls Dodgen +
17.95
HEND: 1-56563-717-8



Throughout all recorded history God has revealed himself in various ways. Though there is one pathway to God, spiritual awakening may happen at anytime from childhood to old age.
Glimpses of God through the Ages preserves hundreds of first-hand expressions of Godís love and presence in individual lives. These glimpses have been gathered from books, testimonies, diaries, personal recollections, historical documents, and witnessed accounts.
This book will strengthen and encourage your faith whether you are experiencing Godís presence or feeling alone. You will read accounts of men and women throughout time and discover how God touches the core of our beings in ways appropriate to our own interests, background, personality, and talents. He meets us where we are, and yet is the same yesterday, today, and forever.
Editor Bio
Esther Carls Dodgen is a retired language teacher. She presently teaches adult education and literacy classes and works with the developmentally disabled in Missouri. Her first book, Flowers Along the Path: Collected Wisdom for Your Spiritual Journey, published in 2001, is an anthology of prose and poetry about spiritual truth.
This item does not qualify for free shipping. However, normal shipping applies and there is never a surcharge.