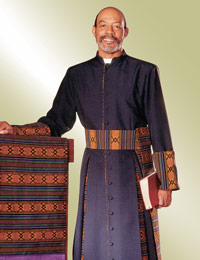 CASSOCK 399M (Evangelical)
420.00 399.95 On Sale!
MUR: 399M

The unique Evangelical Cassock #399-M is tailored for men with accenting cuffs and pleat inserts. There are two inverted pleats in the front, and three in the center and side back. Corded piping outlines the collar, cuffs, and front opening. Slightly tapered at the waist, this cassock includes a right pocket slit and a left full pocket, a removable tab collar, and can be worn with or without an underlying clerical shirt. The coordinating Band Cincture #902-M is priced separately.

Make it your own.This cassock can be subtle or dramatic, depending on your choice of fabrics and colors. We've chosen black Viva and accented it with authentic Woven Kente cuffs, pleat inserts, and corded piping.

Click here to view our Custom Cassock Size Chart B for Men to find your size. The measurements required for ordering this cassock, and how to take them, may be found by clicking on How To Measure.

Your Murphy dealer can provide you with ordering information, fabric samples, and assistance with measuring. As with all custom tailored items, please allow 6-8 weeks for delivery following factory receipt of all ordering information.

In a hurry? Check out our Qwick-Ship selection of cassocks. Each QS item offers extra savings, and is ready for shipment in a wide range of sizes within 24 hours of factory receipt of order.

Our Guarantee of Quality means that any custom tailored item you purchase will be tailored in the size, style, fabrics, and colors indicated on your order. If the item does not meet the specifications represented in our catalog or on this web site, or is found defective in workmanship or materials upon delivery, we will repair or replace the item at no charge.

Because of the additional weight on this item (5 pounds), shipping on this item will be about $15 depending on your distance from the Murphy warehouse in St. Petersburg, FL. If ordering more than one item, that will also raise the shipping costs accordingly. Therefore, we will adjust your shipping charge to reflect this change upon receipt of your order. Any questions, please call our toll free number. By submitting your order, you agree to this change to your order!!