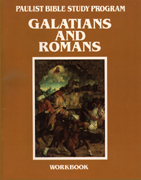 GALATIANS AND ROMANS (Paulist Bible Study)+
6.95
PP: 0-8091

Galatians and Romans has a special focus on these two pillars of St. Paul's letters. Available as a workbook, leader's guide and video. Please indicate your preference in the box below. If ordering the Leader's Guide or Video, the price will be adjusted upon receipt of your order but will not be reflected on your program-generated receipt. Prices are as follows:
Workbook: $6.95(#9416-3)
Leader's Guide: $12.95 (#9417-1)
Video: $79.95 (#8054-5)
This item does not qualify for free shipping. However, normal shipping applies and there is never a surcharge.