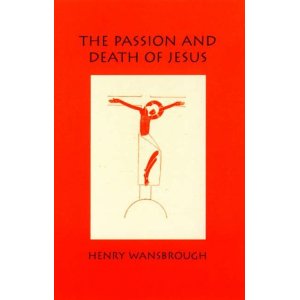 PASSION AND DEATH OF JESUS by Henry Wansbrough, OSB +
14.95
DLT: 0-232-52510-2

The story of the trial and execution of Jesus is both a source of wonder and inspiration for Christian believers and a dense maze of complex problems for scholars and theologians.

The Passion and Death of Jesus is a wonderfully accessible guide to the passion narratives by one of the world's leading biblical scholars. Henry Wansbrough guides the reader through the many enigmas, nuances and disputed readings of the last days of Jesus as recorded in the four gospels. His masterly and well-balanced investigation turns the search for the historical Jesus into an intriguing intellectual adventure. It will be eagerly welcomed both by scholars and by non-specialist readers, students and bible study groups.

Henry Wansbrough OSB is the Master of St. Benet's Hall, Oxford, UK and the translator and editor of the New Jerusalem Bible. He is the only English member of the Pope's Biblical Commission.

Persons who purchased this title also purchased A Doctor at Calvary.

This item does not qualify for free shipping. However, normal shipping applies and there is never a surcharge.