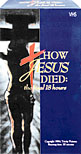 HOW JESUS DIED: THE FINAL 18 HOURS ($19.95)
15.95
GATEWAY

The first ever full-length video feature presenting the comprehensive medical, forensic and historical facts of the Crucifixion of Jesus Christ. How Jesus Died: The Final 18 Hours captures every detail of the last few hours leading up in Jesus' death on the cross. From His entry into Jerusalem for the Last Supper through His prayerful agony in the Garden of Gethsemane, His trials before the Sanhedrin and Pilate, the scourging, the crowning with thorns, the brutal ascent in Golgotha bearing the weight of the cross, the nailing of His hands and feet, as well as those final three hours of torment, ending in His death.

Four world-renowned experts explore various aspects of Jesus' crucifixion. Each revealing important understandings from their points of view as a medical examiner, an historian, an archaeologist and a medical expert on pain.

Nothing will bring you closer to understanding what Jesus endured on the cross than watching How Jesus Died: The Final 18 Hours.

Available in English or Spanish video or DVD [$19.95 (list $24.99)]. Please specify your preference when ordering. If ordering the DVD, the price will be adjusted upon receipt of your order but will not be reflected on your program-generated receipt.