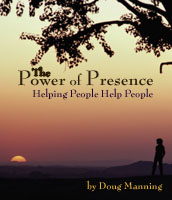 POWER OF PRESENCE by Doug Manning ($10.95)+
9.95
INS:

Doug's latest book might be one of his best for anyone in a capacity to work with people in pain. This book replaces and surpasses his original work in this area "The Gift of Significance" which is no longer in print. He brings his unique discussions about the power of listening, how to be available to people on various life journeys, and how to "get into people's buckets" to create this book and training guide. Each chapter has opportunities for learning by writing responses to the scenarios presented. Also included is a trainer's discussion guide so the book can be utilized in professional or lay team training.

A must-read for hospice, nursing home, hospital, and death care professionals. A wonderful training tool for lay ministry teams or support group leaders.

This item does not qualify for free shipping. However, normal shipping applies and there is never a surcharge.