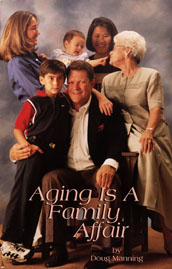 AGING IS A FAMILY AFFAIR by Doug Manning ($8.95)+
7.95
INS:

Family meetings...legal planning...financial considerations...choosing the right care...helping the caregiver...all of these topics are of great concern to a family faced with planning care for an aging loved one. Doug provides a hands-on planning guide for a practical and loving approach to long-term care. Assisted living facilities, elder care consultants and specialists give these books to their clients. Church ministries utilize the information for ongoing classes. Each one of your family members should have one before having a family meeting.

This item does not qualify for free shipping. However, normal shipping applies and there is never a surcharge.