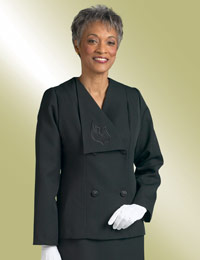 WOMEN'S JACKET H-133 (Black)
94.95 84.95 On Sale!
MUR: WJ133



This distinctive unlined jacket adds classic elegance to any service. Designed to coordinate with our Skirt H-134, this flared skirt is ready to ship within 24 hours of our receipt of your order, and backed by the Murphy Qwick-Ship Guarantee of Satisfaction.

Tailored in black Linette for a crisp, wrinkle-free look.

Machine washable
Asymmetrical lapel with embroidered descending dove
Elegant full length sleeves
Double breasted front button closure
Click here to view available sizes for women