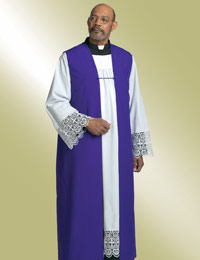 BISHOP'S CHIMERE H-126, 127 and 189 (Purple, Scarlet or Black)(with free shipping)
211.90 204.95 On Sale!
MUR: H126, 127 or 189

This traditionally styled chimere is the outer robe preferred by many Bishops, Apostles and Prophets. Ready to ship the next business day following our receipt of your order, it is backed by the Murphy Qwick-Ship Guarantee of Satisfaction.

Features include:
Tailoring in purple (shown left)(H126), Scarlet (H127) or Black (H189) Viva fabric
Fluted back
Cord and button closure
Generously sized to fit over cassocks and rochets
Stocked to fit most men. To find your size, see our Men's H Size Chart.
Free ground shipping offer applies only to orders shipped within the continental US.
Custom Chimeres of this style are available with delivery in 6 to 8 weeks in your choice of sizes, fabrics, etc. starting at $271.95 (list: $287)(MR293). Please contact us for more information via our toll free number at 877-432-6745.