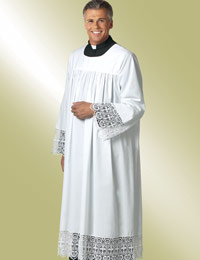 BISHOP'S ROCHET H-138 (with free shipping)
221.90 210.95 On Sale!
MUR: RH138

Modeled after the finest rochets costing hundreds of dollars more, this exquisitely tailored rochet is designed to be worn over a cassock Ready to ship the next business day following our receipt of your order, it is backed by the Murphy Qwick-Ship Guarantee of Satisfaction. Features include:
Tailored in white Poplin
Tailoring features include

Wide lace sleeve and body trim
Extra long length
Machine washable (delicate)
Stocked to fit most men. To find your size, please consult the Men's H Size Chart.

Free ground shipping offer applies only to orders shipped within the continental US.
Custom Rochets of this style are available with delivery in 6 to 8 weeks in your choice of sizes, fabrics, etc. starting at $271.95 (list: $288)(MR624). Please contact us for more information via our toll free number at 877-432-6745.