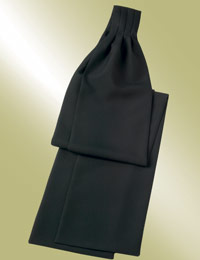 BISHOP'S TIPPET H-137
106.90 101.95 On Sale!
MUR: BT H137

Historically worn with a chimere, this tippet is traditionally styled. Ready to ship the next business day following our receipt of your order, it is backed by the Murphy Qwick-Ship Guarantee of Satisfaction.
Features include:
Tailoring in black Viva

Center back pleats
Extra length 50" panels
Machine washable
One size fits all.
Custom Tippets of this style are available with delivery in 6 to 8 weeks in your choice of sizes, fabrics, etc. starting at $115.95 (list: $126)(MR743). Please contact us for more information via our toll free number at 877-432-6745.