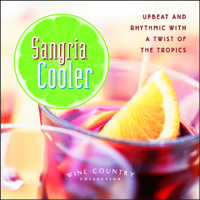 SANGRIA COOLER by Northstar Music Artists ($14.95)
12.95
NRTH:

Like a cold drink on a hot day, these exotic rhythms will lift your spirits and get your feet tapping. Conjuring up the beaches of Rio, or a Caribbean getaway, the hypnotic percussion, propulsive guitars and soaring sax create an exciting party atmosphere to keep you moving, the conversation lively, and the mood light. Some of these melodies will be familiar, some will surprise you with their originality, but they all go down smooth and sweet - ­ Sangria Cooler. Performed by Calido; Peter Calo; CommonGround; Bruce Foulke and Howard Kleinfeld; Cindy Horstman & Friends and Emilio Kauderer.
A Night In Brazil
Rio
Song For My Father
Twilight Whisper
Fool On The Hill
On And On
Into The Night
The Girl From Ipanema
Diamonds On The Soles Of Her Shoes
Manha de Carnival
Dances With Waves

Available on compact disc or cassette [$9.95 (list: $10.95)]. If ordering the cassette, the price will be adjusted upon receipt of your order but will not be reflected on your program-generated receipt.