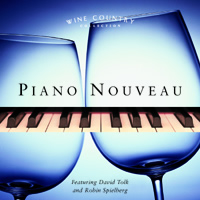 PIANO NOUVEAU by David Tolk and Robin Spielberg
15.95
NRTH: 194

Fresh and slightly sweet, like the season's first Beaujolais, this collection of beautiful original melodies and familiar favorites is a pleasure from first sip to last. Best-selling artists David Tolk and Robin Spielberg are quickly finding themselves among the country's favorite contemporary pianists. Both write beautiful original melodies that charm the heart and touch the soul. David surrounds himself with beautiful arrangements that support his piano with guitars, strings and woodwinds. Robin favors the crystalline beauty of solo piano. But either way, the combination is delicious ­- we invite you to enjoy Piano Nouveau.

Titles include:
After The Rain
Scarborough Fair
Stories In The Sky
In The Heart Of Winter
Dancing In The Quiet Rain
With Or Without You
A Winter's Tale
Crystal Fountain
Fields Of Gold
By The Hearth
Cranberry Island
Amy's Lullaby
Available on compact disc.