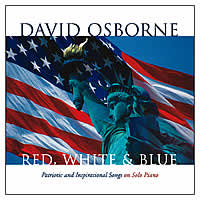 RED, WHITE AND BLUE by David Osborne ($14.95)
12.95
NRTH: 155

David was so moved by the Spetember 11th disaster that he was inspired to arrange and record this album, he came to us with the idea and we are glad he did! David delivers rousing and gorgeously played versions of 14 American songs. In addition to anthems he includes songs tied thematically to the ideas of Liberty and Justice. These arrangements for solo piano are vibrant interpretations of time-tested classics. Beautifully and eloquently performed, Red, White & Blue is a testament to David's skill as well as his dedication to God and country. A portion of the sales from this recording will be donated to September 11th disaster relief.

Titles include:
America the Beautiful
The Battle Hymn Of The Republic
God Bless America
Born Free
Star Spangled Banner
From A Distance
Amazig Grace
Stars And Stripes Forever
God Of Our Fathers
Hero
Navy Hymn
Wind Beneath My Wings
Let It Be
America (My Country Tis Of Thee)
Available on compact disc or cassette [$8.95 (list: $9.95)]. If ordering the cassette, the price will be adjusted upon receipt of your order but will not be reflected on your program-generated receipt.