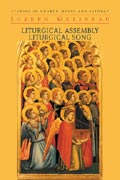 LITURGICAL ASSEMBLY, LITURGICAL SONG by Joseph Gelineau ($24.95)+
21.95
OCP: 1-56929-044-X (#6134)



Liturgical Assembly, Liturgical Song combines two books originally written in French by Joseph Gelineau, renowned Jesuit composer, author and musicologist: Reflections on Renewal and Ritual Roots of the Sung Parts of the Mass. It is a pastoral and scholarly resource for musicians, liturgists, presiding ministers and anyone striving to deepen their understanding of the role of music in the liturgy.

The Second Vatican Council engaged in a profound reform of the liturgy. Father Gelineau, one of the artisans of this reform, shares in Liturgical Assembly, Liturgical Song his re-reading of liturgical evolution. He invites all Christians to realize what is at stake in the ever-renewing liturgy. Addressing liturgical, historical and musicological issues, Father Gelineau brings to the reader the laws of music in terms of how they apply to singing for the liturgy. Marked by a depth of knowledge and concise presentation, Liturgical Assembly, Liturgical Song is very personal in style, reflecting the author's manner of speaking. [178 pp, 6 x 9, softcover]

Praise for Liturgical Assembly, Liturgical Song
"This very welcome book gives the English translation of two of Fr. Joseph Gelineau's more recent studies that sum up his lifetime passion for liturgical music . . .. What comes clearly through these pages is his desire to give the rationale for the unique role of music in worship . . . . Always the teacher, his clear and succinct treatment of the historical, liturgical and musicological aspects of the various rites and prayers of the Mass make this book invaluable as a resource for both liturgists and musicians."
—Rev. William A. Jordan, The Summit

This item does not qualify for free shipping. However, normal shipping applies and there is never a surcharge.