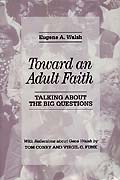 TOWARD AN ADULT FAITH by Eugene Walsh ($14.95)+
12.95
OCP: 0-915531-23-2 (#9857)

"What do believing Catholics and other Christians need to know... in order to survive and grow in their world of faith and worship and daily living?" This quote from the introduction aptly sums up the purpose of this book. Readers will find insight into these most important topics of our faith, as well as poignant reflections on the life of Eugene Walsh by Fr. Virgil Funk and Tom Conry. 208 pages, size: 6 1/4" x 9 1/2".

This item does not qualify for free shipping. However, normal shipping applies and there is never a surcharge.