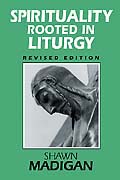 SPIRITUALITY ROOTED IN LITURGY by Shawn Madigan ($15.95)+
12.95
OCP: 1-56929-029-6 (#11125)

Explore the meaning and foundation of liturgical spirituality from its roots in Jewish antiquity to its contemporary experience in America. Each chapter includes discussion questions and suggestions for further reading. 246 pages, size: 6" x 9"

This item does not qualify for free shipping. However, normal shipping applies and there is never a surcharge.