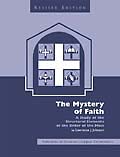 RITE OF CHRISTIAN INITIATION OF ADULTS A Liturgical-Pastoral Commentary by J. Michael McMahon $15+
12.95
OCP: 44100

This commentary covers, in detail, the history of the Rite, and its current elements and structure. The discussion questions at the end of each chapter will stimulate spirited dialogue, making this an excellent catechetical tool for RCIA teams, pastors, and liturgy directors. Revised edtion 2001. 8 1/2" x 11".

This item does not qualify for free shipping. However, normal shipping applies and there is never a surcharge.