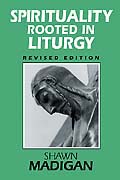 CREATIVITY AND THE ROOTS OF LITURGY by John Foley, SJ ($19.95)+
17.95
OCP: 1-56929-015-6 (#10554)

The liturgy is a symbolic dialogue with God representing the highest form of aesthetic experience. John Foley presents a systematic vision of the liturgy as it relates to aesthetics. He demonstrates that liturgy is itself an art form that unites the various liturgical arts under its broad umbrella. 334 pages, size: 6" x 9" ,

This item does not qualify for free shipping. However, normal shipping applies and there is never a surcharge.