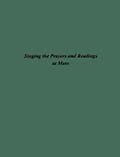 SINGING THE PRAYERS AND READINGS AT MASS edited by Edward Schaefer ($14)+
11.95
OCP: 12251

This handy volume is an excellent resource for parishes striving to celebrate a fully sung Mass in English using chant or Gregorian formulas. It provides tones for the prayers of the Mass, the Old Testament reading, the New Testament reading and the Gospel, all with helpful examples and guidelines. All texts are in English with Gregorian notation. [33 pp, 8 1/2 x 11, softcover]

This item does not qualify for free shipping. However, normal shipping applies and there is never a surcharge.