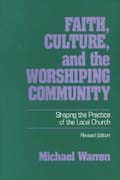 FAITH, CULTURE AND THE WORSHIPING COMMUNITY by Michael Warren ($12.95)+
10.95
OCP: 1-56929-002-4 (#6072)

There is more to the faith experience than simply attending church on Sunday. Catechesis is vital to the life of the local church, but it loses most of its power when people fail to integrate what they learn in the classroom into their daily lives. Michael Warren offers an insightful look at this and other dilemmas facing parishes today. This is essential reading for catechists, clergy and parish and religious education leaders. 212 pages, size: 6" x 9".

This item does not qualify for free shipping. However, normal shipping applies and there is never a surcharge.