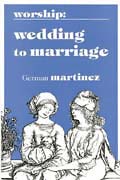 WORSHIP: AT THE MARGINS Spirituality and Liturgy by Michael Downey ($14.95)+
12.95
OCP: 1-56929-021-0 (#6090)

This book will challenge the way you view the poor, the mentally and physically challenged, the weak, and even yourself. It invites the whole church (and the reader) to examine how the experience of weakness and inferiority might be brought before God in prayer and in the context of the corporate worship of a community. 294 pages, size: 6" x 9".

This item does not qualify for free shipping. However, normal shipping applies and there is never a surcharge.