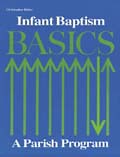 INFANT BAPTISM BASICS A Parish Program by Christopher Heller ($11.95)+
9.95
OCP: 1-56929-013-X (#6083)

This publication presents a parish infant baptismal program that responds to the vision of sacramental life described by Vatican II. The program reflects the demands of, and insights into, the Rite of Christian Initiation of Adults; itís about being and becoming a church of hospitality, outreach and evangelization. 144 pages, size: 8" x 10".

This item does not qualify for free shipping. However, normal shipping applies and there is never a surcharge.