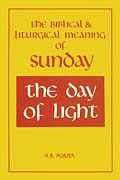 DAY OF LIGHT The Biblical and Liturgical Meaning of Sunday by H. Boone Porter ($7.95)+
6.95
OCP: 0-912405-40-6 (#6024)

Sunday as the Holy Day is the oldest and most universal of Christian practices. The author explores the meaning and significance of Sunday observance in contrast to the traditional Jewish Sabbath. 96 pages, size: 5 1/2" x 8 1/2".

This item does not qualify for free shipping. However, normal shipping applies and there is never a surcharge.