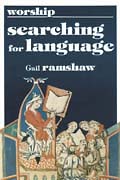 WORSHIP: SEARCHING FOR LANGUAGE by Gail Ramshaw ($14.95)+
12.95
OCP: 0-912405-49-X (#6029)

Each succeeding generation of Christians takes the words of tradition and inevitably adapts them for contemporary use. Gail Ramshaw examines the language Christians use and have used in the past and outlines suggestions about the words we should choose to express the mystery of God. 224 pages, size: 6" x 9", ISBN: 0-912405-

This item does not qualify for free shipping. However, normal shipping applies and there is never a surcharge.