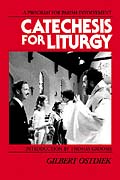 CATECHESIS FOR LIFE A Program for Parish Involvement by Gilbert Ostdiek ($12.95)+
10.95
OCP: 0-912405-23-6 (#6127)

The liturgy doesn't have to be a spectator event. Learn how to bridge the gap between religious education, liturgy preparation and ritual as you help parishioners move from individual to community worship. This is an excellent method for adult liturgical catechesis based on the Thomas Groome technique — perfect for parish adult educators and liturgy teams. 192 pages, size: 6" x 9".

This item does not qualify for free shipping. However, normal shipping applies and there is never a surcharge.