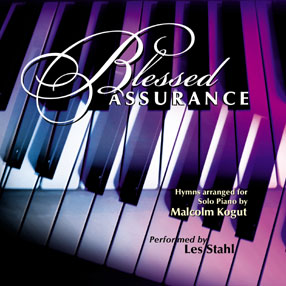 BLESSED ASSURANCE Hymns for Solo Piano by Malcolm Kogut & Les Stahl ($17)
14.95
WLP: 2530


List of the songs
(These icons appear when soundbyte is available)

Where Charity and Love Prevail
Hymn to Joy
Seek Ye First
How Great Thou Art - Stahl/Kogut
Prayer of St Francis
Yes, I Shall Arise - Stahl/Kogut
I Know That My Redeemer Lives - Stahl/Kogut
Blessed Assurance
The King of Love
Keep In Mind - Stahl/Kogut
On That Holy Mountain - Stahl/Kogut
How Can I Keep From Singing
O Come, O Come, Emmanuel - Stahl/Kogut
Lo, How A Rose EŽer Blooming - Stahl/Kogut
Just As I Am
Draw Near - Stahl/Kogut
God We Praise You
GodŽs Blessing Sends Us Forth
Were You There - Stahl/Kogut
Morning Song - Stahl/Kogut
Celebrating Years
Dismissal Amen - Stahl/Kogut




You need one of these players to listen the soundbyte

Get FREE »


Get FREE »

Les Stahl has been an active parish musician for over 35 years. He received his degrees from Northwestern University in Music Theory and Composition, with extra degree work in Radio, TV, Film and Theater.
His extensive experience in theater includes the road company of the original production of "Godspell" and working on and off Broadway as an arranger and musical director. He has directed over 200 plays and musicals, as well as over 25 operas, including productions for his own company in Chicago "Opera San Benedetto." Theatre companies for which he has directed or written include Steppenwolf, St. Nicholas Theater, the Marriot Lincolnshire Musical Theater, Victory Gardens and the Goodman Theater (all in Chicago).
Active in NPM for the last 15 years, he is webmaster for the NPM internet chapter site, and has been a choir director/organist at four parishes in Chicago over the last 30 years. His musical activities also include the direction of an 18 piece Big Band for 20 years - the "Deja Vu Big Band," well-known in the Chicago area for many years. He is a writer, composer and arranger and has taught music and theater (grades K-College) at various private and parochial institutions.