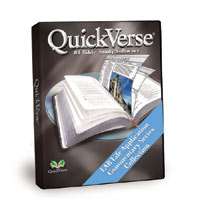 QUICKVERSE 2006 LIFE APPLICATION BIBLE (for Palm & PPC)($39.95)
29.95
The Life Application Bible Commentary series comes specially packaged as a QuickVerse 2006 Collection. This means you can either add this collection to your existing QuickVerse 2006 installation, or install the series as a stand-alone product. Either way, you'll have access to these powerful features found only in QuickVerse 2006:
New Features in QuickVerse 2006
New Search Features
Enhanced Word Form Search: New advancements in word search technology will now allow you to find all forms of a given search word without embedding cryptic symbols like "*" or "?". Search for "rise" and receive "arise", "risen", "rising", and rise. Search for "Love" and receive "Lovest", "Loveth", "Loved", "Loving", and "Love"!
Thesaurus Search: Search for similar words including those hard-to-remember 16th century words like "Forthwith" (immediately), "threescore" (sixty), "Forscore" (eighty)! Search for "sure" and find "certain", "certainly", and "sure." And many more!
Phrase Search: Now perform multiple word searches matching all words down to a single Bible verse! Find "God" and "command!" where both are present in a single book, chapter, or verse!
New Reading Plan Features
New Reading Plans: Now including over 100 pre-configured reading plans or create your own and track your Bible reading progress daily.
Morning and Evening: Reading plans can now be further segregated for both morning and evening readings each day. Read through the Bible faster than ever before!
Parallel Bible: Select one or more Bible translations in any reading plan! Now you can see your favorite modern translations along side the traditional translations every day within your daily reading!
New Interface Features
Enhanced Look/Feel: QuickVerse now supports a new look!
QuickVerse Advanced InfoWindow: Mouse-over any verse reference and see the verse in up to four Bible translations! Mouse-over any Strong's number and review the language definition in all Strong's resources! Mouse-over a word link and see the definition in all available dictionaries – all in one powerful InfoWindow!
QuickVerse History: Now you have a simple method to return to any point or position in your current QuickVerse session. Just pull up the History Window and review your activity. Select any book action and return instantly to that position!
Verse Selection: Now select an entire verse in any Bible translation with one simple click! Highlight, Bookmark, or copy a full verse using One-click Verse Selection.
New Notes: Note Indicators now mark every position in the Table of Contents in all books – you'll always know note positions in every book! Autosave now saves notes automatically as you move through any/all books – even if you forget!
Custom Bible Views: You can now select one standard display format for all Bibles!
Create Your Own Books
Unlimited Books: Create an unlimited number of your own QuickVerse books!
Unlimited Topics: Add unlimited topics, items, and text entries!
Organize it Your Way: Organize your books by word or by book/chapter/verse!
Synchronize Your Books within QuickVerse: User Books fully support word and book/chapter/verse synchronization!
Create Hyperlinks: Design your own hyperlinks to Web pages, verses, or positions in the current book!
Key Features in QuickVerse 2006
Search and Find - Our advanced search engine allows you to search words/phrases/book, chapter, verse references, Greek and Hebrew (including morphological searching)! Search one or more multiple books with combined results!
Search the Words of Jesus - This unique feature allows you to search only the words and phrases spoken by Jesus.
Segmented Reading Plans - Save and apply up to 4 Bible segments in any daily reading plan. You can customize your daily reading plans to fit your needs!
Passage E-mails - Email passages to your friends or congregation directly from QuickVerse!
Window Processing - Save tabbed and paned windows together in one session, all fully linked - the ultimate in textual viewing flexibility!
Parallel Gospels - Show over 100 passage similarities in Matthew, Mark, Luke and John.
Full Office Smart Tag Support - Immediately locate and import your favorite passage from any Bible or reference work without leaving your favorite Microsoft Office application (2002 or above). Perform powerful QuickVerse searches through your default Bible, topical, or dictionary! Instantly review and insert search results directly into your office document!
User Book Categories - Re-arrange your library! Add and change book categories and move books to your favorite categories!
1,000 Additional Photos - View the Holy Land in brilliant high-resolution color photos! Each is fully captioned and indexed. Now over 2,000 total photos!
50 high-resolution maps - Easily print and copy maps for viewing. Each map is fully captioned and indexed!
Parallel Verse View - View any group of verses in several translations at once, in the same window! No more switching between windows or trying to fit seven windows in your desktop screen! You select the translations you want visible, and they all appear in the same window either side-by-side (Horizontal View) or stacked vertically!
Book, Chapter, Verse Synchronization - Synchronize the view of QuickVerse by book, chapter, or verse! Move in one window and QuickVerse will automatically scroll commentaries and Bible translations!
Daily Bible Reading Plans - Choose from several preset Bible reading plans or create your own. Either way QuickVerse will track your progress!
Create Your Own Personal Notes - Within each reference book you can attach notes to a book, chapter, or verse. Notes can be included anytime you print a particular book, chapter, or verse.
Enhanced Copy/Print - Advanced citation formatting with translation references and publisher information (including permission to quote) for copy and printed text!
Study Views - Save multiple working environments including books, book views, and window positions to handle many study situations.
Download Library - With an internet connection, you have instant access to hundreds of today's most sought-after Bible translations and Christian references.
VerseFinder - This tool is the industry's fastest way to navigate any book, chapter, verse combination across your entire library.
Highlighting Capabilities - Color code your favorite passages by topic or subject. Choose from up to eight colors to highlight passages in one easy customizable list!
Automatic Window Docking/Tabs - This feature allows windows to size automatically. Supports multiple book tabs in multiple windows for viewing more translations, commentaries, and definitions than ever before.
Bible Views - Alternate Bible text viewing to support enhanced paragraph formatting or a single verse-per-line viewing.
Questions? - Call (888) 459-0078
Operating System:
Windows 98SE, Me, 2000, XP Home, or XP Pro 
Hardware:
Pentium III with 500 MHz (or equivalent), or higher
RAM:
128 MB or greater
Hard Disk:
200 MB
Peripherals:
CD-ROM or DVD-ROM