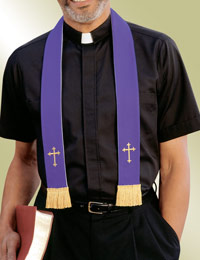 VISITATION STOLE (with free shipping) from Murphy
47.90
MUR: 12201

This convenient Visitation Stole folds quickly into your pocket for hospital and sick calls. Ready to ship within 24 hours of factory receipt of your order, and backed by the Qwick-Ship Guarantee of Satisfaction.


Tailored in reversible purple and white Pavillion;
Soft gold Latin Crosses embroidered on both ends of both the purple and white sides;
Matching soft gold brush fringe;
Measures 52" long, end to end.
(Purchase of this stole qualifies for free ground shipping in the continental US without additional purchase. If expedited shipping is needed, the free shipping offer does not apply.)