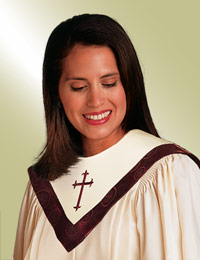 REVERSIBLE CHOIR STOLE (Millenova)
36.95 33.95 On Sale!

This reversible stole is available in reversible Linen/Maroon (shown left), Chianti Red/Ivory, Sapphire/White and Vermillion/White. It is available in two sizes to fit most adult and junior choir members and coordinate with the respective color Tempo C30 or Anthem C31 choir robe. Ready to ship the next business day following our receipt of your order, and backed by the Murphy Qwick-Ship Guarantee of Satisfaction.


Tailored in Viva with MillenovaŽ edge and reverse

Embroidered in front on one side with a Latin Cross

Slips on over the head

Features a deeply pointed pennant style back

Dry clean

Prices for both Adult and Junior sizes are as follows:
1 to 5: $33.95 (list: $36.95)
6 or more: $29.95 (with free shipping)
If ordering six or more, the price will be adjusted upon receipt of your order but will not be shown on your program-generated receipt.