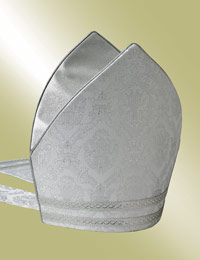 BISHOP'S MITRE 122M
320.00 289.95 On Sale!
MUR: H87



Please be aware that Murphy will be in the process of moving their manufacturing facilities from St. Petersburg, FL to Champaign, IL from June 23 until July 10. NO QUIK-SHIP ITEMS WILL BE AVAILABLE TO SHIP DURING THIS PERIOD!!! If you are in need of something, please place your order no later than 12PM on June 22!!!

A Mitre can complete an ensemble for those special occasions. Tailoring details include Satin lining and a concealed leather headband for long wear.

Make it your own. Shown here in silver Lame with silver Renaissance Brocade accents, silver piping and silver metallic Bedford trim, but may be tailored in your choice of fabrics and colors, with piping chosen to match, or accent. To determine your hat size, please click on How to Measure.

If you're interested in this mitre and would like to see the coordinating ensemble, you should see our #245-M Cassock and #079-M Band Cincture, plus the #296-M Chimere.

We can provide you with ordering information, fabric samples, and assistance with measuring. As with all custom tailored items, please allow 6-8 weeks for delivery following factory receipt of all ordering information.

In a hurry? Check out the Qwick-Ship selection of mitres. Each Qwick-Ship item offers extra savings, and is ready for shipment in a wide range of sizes within 24 hours of factory receipt of order.

The Murphy Guarantee of Quality means that any custom tailored item you purchase will be tailored in the size, style, fabrics, and colors indicated on your order. If the item does not meet the specifications represented in their catalog or on their web site, or is found defective in workmanship or materials upon delivery, they will repair or replace the item at no charge.

Mitre #122 Priced from $289.95 (list: $320).