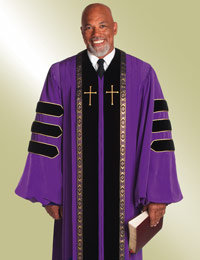 RT WESLEY H-158 PULPIT ROBE (Purple with Black Doctoral Bars)(with free shipping)
468.90 439.95 On Sale!
MUR: H158

Stand out from the crowd wearing this distinguishing clergy robe. It is ready to ship the next business day following our receipt of your order, and is backed by the Murphy Qwick-Ship Guarantee of Satisfaction.

Construction details include:
fully lined, belled sleeves with deep cuffs, plus a right pocket slit;
Tailoring in purple Peachskin;
Rich metallic brocade ribbon edges the black Peachskin panels;
Black Velvet Doctoral Bars are crisply edged with bright gold metallic corded piping; and,
Twin 4" Flared Crosses embroidered in old gold metallic grace the front panels.
Available in 20 sizes to fit most men. To find your size, consult the Men's H Size Chart.

Custom robes of this style are available with delivery in 6 to 8 weeks in your choice of sizes, etc. and start at $549.95 (list: $582.50)(MR464) depending on fabric, trim, etc. Please contact us for more information via our toll free number at 877-432-6745.

Have you considered a Garment Bag for your new robe or alb to keep it dust-free and for travel?

Free shipping offer applies to orders shipped within the continental US.

INTERNATIONAL ORDERS, PLEASE NOTE: There is an additional charge of $15 for each international order processed over and above the actual shipping charges since these robes will have to be shipped to our store before shipping overseas and will not be sent directly from Murphy. Additional items in your order will incur additional charges above the minimum for the additional weight.