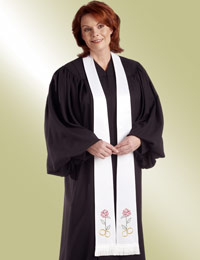 WEDDING STOLE (Rose and Rings)(with free shipping) from Murphy
100.90 89.95 On Sale!
MUR: 16372

This contemporary white Empress Satin Pulpit Stole adds special meaning to wedding ceremonies, with gold metallic wedding rings entwined with a single rose on both ends of each panel. White 2" brushed fringe adorns both ends and it measures 92" in length, end to end.

Free ground shipping offer applies only to orders shipped within the continental US.