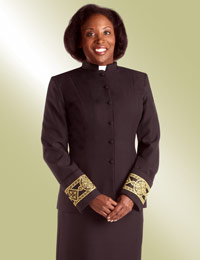 CLERGY JACKET H-168 (Black)(with free shipping) for Women
279.95 259.95 On Sale!
Mur: H168



Styled with princess lines for an easy fit, this richly textured Clergy Jacket provides a contemporary classic look for the woman pastor. It is designed to coordinate with the Skirt H-134. Itíll ship it within 24 hours of our receipt of your order, and is backed by the Murphy Qwick-Ship Guarantee of Satisfaction.

Construction details include:
Tailoring in black Linette for a crisp, wrinkle-free look;
Satin faced Fleur Banding with gold metallic highlights accent wide cuffs;
Gold metallic corded piping and buttons;
Fully lined; and
Standing collar with removable clerical tab.
It is stocked in 20 sizes to fit most women. To find your size, see the Women's H Size Chart.

Custom jackets of this style are available with delivery in 6 to 8 weeks in your choice of sizes, etc. and start at $341.95 (list: $362)(MR278) depending on fabric, trim, etc. Please contact us for more information via our toll free number at 877-432-6745.

Have you considered a Garment Bag for your new robe or alb to keep it dust-free and for travel?

Free ground shipping is available in the continental US. If international or expedited shipping is required, the free shipping offer does not apply.