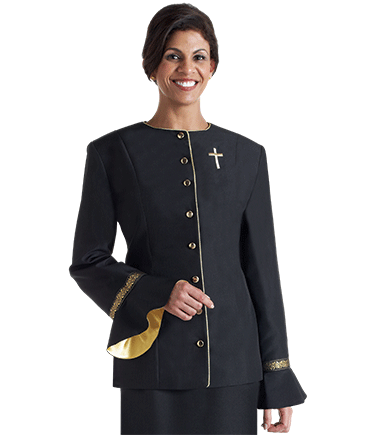 WOMEN'S JACKET H-204 (Black)(with free shipping)
164.90 159.95 On Sale!
MUR: WJ204



This smartly styled jacket is tailored along princess lines in Linette fabric. Fully lined, featuring flared cuffs accented with metallic wheat trim and lined with Contessa® fabric. Accented with Solid Cross embroidered in gold metallic, plus gold metallic piping around collar and front closure. Designed to coordinate with the Skirt H-134, this flared jacket is ready to ship within 24 hours of our receipt of your order, and backed by the Murphy Qwick-Ship Guarantee of Satisfaction.


Click here to view available sizes for women.

Custom Jackets of this style are available with delivery in 6 to 8 weeks in your choice of sizes, etc. beginning at $219.95 (list: $231)(MR364). Please contact us for more information via our toll free number at 877-432-6745.

Have you considered a Garment Bag for your new robe or alb to keep it dust-free and for travel?

Free ground shipping is available in the continental US. If international or expedited shipping is required, the free shipping offer does not apply.