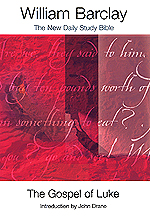 LUKE (Commentary by William Barclay)($15.95)*
12.95
With an historian's precision, Luke's Gospel shows painstaking care both in detail and in expression. Of equal distinction is the universal appeal of the Gospel. Dr. Barclay wrote that this Gospel makes "Christ the open door for all without reserve." In many areas that were either minimized or neglected by the other Gospel writers, Luke's account is more complete, emphasizing prayer, the dignity of women, and praise of God. Barclay's insightful comments help each of us to see the infinitude of God's love through Luke's eyes.
For almost fifty years and for millions of readers, The Daily Study Bible commentaries have been the ideal help for both devotional and serious Bible study. Now, with the release of The New Daily Study Bible, a new generation will appreciate the wisdom of William Barclay. With clarification of less familiar illustrations and inclusion of more contemporary language, The New Daily Study Bible will continue to help individuals and groups discover what the message of the New Testament really means for their lives.
Professor William Barclay (1907–1978) was a world-renowned New Testament interpreter and Professor of Divinity and Biblical Criticism at Glasgow University in Scotland. Having written more than fifty books, he is probably best known as the author of the seventeen New Testament volumes in The Daily Study Bible series.
(Purchase of this book helps you qualify for the free shipping option if it is being offered at the time of your order.)