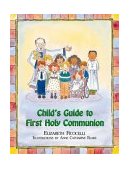 CHILD'S GUIDE TO FIRST HOLY COMMUNION by Elizabeth Ficocelli ($9.95)*
8.95
PP: 0-8091-6708-5



Written in the spirit of the best selling Child's Guide to the Mass, Child's Guide to First Holy Communion is a charming yet informative picture book aimed at children who are preparing to receive this important sacrament for the first time. Written in an engaging, easy-to-read manner, this book follows Justin as he attends Mass to receive his First Holy Communion.

Throughout the book, there are interactive questions ("What are you thankful for?") designed to encourage discussion between the child and parent or teacher. A Child's Guide to First Holy Communion is:
is beautifully illustrated in full color.
shows children just what to expect from this new experience.
is a meaningful gift from parents and other family members.
is the perfect teaching tool for use in Catholic schools or parish CCD classes.
Ages 5-9.

Persons who purchased this book also purchased Child's Guide to the Mass.

(Purchase of this book helps you qualify for the free shipping option if it is being offered at the time of your order.)