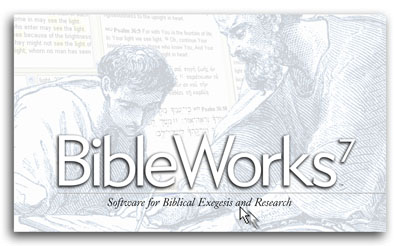 BIBLEWORKS 9 (Includes Free Ground Shipping in US)($600)
359.00
NOW INCLUDES FREE GROUND SHIPPING IN THE US!!
BibleWorks is the premier original languages Bible software program. BibleWorks 8 comes with Greek, Hebrew, and Septuagint Bibles, as well as translations in English, German, Spanish, and many other languages! A necessity for exegesis and exposition, BibleWorks also comes with a variety of lexicons, dictionaries, and morphology tools. For all levels of users, BibleWorks is suitable for Bible study preparation, as well as in-depth Bible research.
For a full description of the program, as well as new features and system requirements, please consult BibleWorks. You can also read what people are saying about BibleWorks by checking out the reviews.
You may also order unlock codes for modules which are already on the BibleWorks disc at reduced prices if ordered with your BibleWorks 8. Click the module link above for a full listing of available resources with prices.
For an independent review of this program, please see the comments by Harry Hahne.