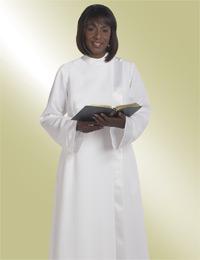 ALB H-190 (White)(Lined)(for Women)(with free shipping)
269.95 254.95 On Sale!
MR: H190

The beautifully simple design of these albs helps to place the focus on your message. Ready to ship within 24 hours of our receipt of your order, and backed by the Murphy Qwick-Ship Guarantee of Satisfaction.

Tailored for women in white Linette with white Contessa trim on front and sleeves.

Tailoring details include:
Wrap closure with button and tie on inside right, Velcro closure on inside left at waist, and snap plus two button closures at left shoulder;
Fully Lined;
Soft, standing collar;
Tailored in A-line style, this alb is more fitted than other ones from Murphy and will fit trimmer body types much better than fuller body types.
Sizing: This alb is stocked in 20 sizes to fit most women and is ready for shipment within 24 hours of factory receipt of order. To find your size, see the Women's QS Cassock & Alb Size Chart.
Murphy's Qwick-Ship® Guarantee of Satisfaction means that if you are not satisfied with any Qwick-Ship item you purchase, you may return it (unused and unworn) for exchange or refund within 10 days of purchase.

Custom albs of this style are available with delivery in 6 to 8 weeks in your choice of sizes, etc. for $319.95 (list: $336)(MR04667). Please contact us for more information via our toll free number at 877-432-6745.
Free ground shipping offer applies only to orders shipped within the continental US.
Have you considered a Garment Bag or extra-long contour Hanger for your new robe or alb?