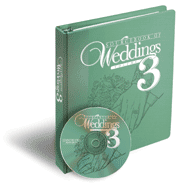 SOURCEBOOK OF WEDDINGS 3 (with CD-ROM)($59.95)+
54.95
CR: WEDC3

Performing joyous weddings ceremonies is a piece of cake when you have the SourceBook of Weddings Volume 3 on your bookshelf.

Plan and conduct unforgettable weddings with the tips, tools and resources in this newly updated and expanded volume. Slip the accompanying CD into your computer, easily open any document, revise it to fit a specific situation and add your own commentary.

In this Sourcebook, youíll find:
45 new wedding homilies;
70 new vows;
40 new prayers and blessings;
Materials to assist with premarital counseling, music, vow renewals, outdoor weddings and anniversaries, plus rehearsal tips and administrative forms;
15 model pastoral letters for post-wedding follow-up
... and much more.
Includes a FREE CD with all of the printed materials in the binder for ease of transfer into your own programs and sermons.

The SourceBook of Weddings Vol. 3 is packed with all the resources you need to prepare memorable weddings, including ...
A wide range of music suggestions for the Preliminary Music, the Prelude, Processional, Special Music and Recessional.
Numerous options for the Invocation, Greeting, Welcome and Introduction, Questions of the Bride and Groom and of the Parents, Minister's Charge, Vows, Ring Exchange, Wedding Prayer, Declaration of Marriage, Benediction and Introduction of the Couple.
Various types of ceremonies including Blended Family Ceremony, Vow Renewals, Outdoor weddings, and Services including a Love Feast or Holy Communion.
General Readings and Special Rituals, such as the Unity Candle.
Administrative forms for setting up the wedding, guidance on running the rehearsal and a series of model Pastoral Letters for post-wedding follow-up.
This comprehensive volume is a must for every pastorís bookshelf! Also available as a set with Sourcebook of Weddings 1 for $74.95 (list: $99.90)(Save 25%!!) and/or Sourcebook of Weddings 2 (both Volumes 2 or 3 include an IBM/MAC-compatible CD-ROM) for $129.95 (list: $159.85)(Save more than 20%!!). These special prices also include the disk of your choice for Volume 1 (or we can burn a CD for you with all of the info). Please indicate your preference on the order form. If ordering the set of volumes, the price will be adjusted upon receipt of your order, but will not be reflected on your program-generated receipt.

This item does not qualify for free shipping. However, normal shipping applies and there are no surcharges.