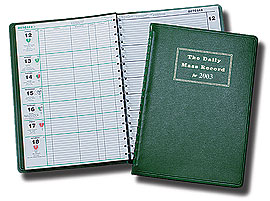 DAILY MASS RECORD (2013 or 2014)($33.95)+
30.95
FJM: DMR10

Includes complete liturgical information for each day of the year plus information on holidays and celebrations for three years. Measures 9½" x 11½". Available for 2013 or 2014. Please indicate your preference when ordering. If ordering both editions, the price will be adjusted upon receipt of your order but will not be reflected on your program-generated receipt. Prices are as follows:
2013: $30.95 ((list: $33.95)
2014: $31.95 ((list: $35.95)
2013 & 2014: $59.95 (list: $70)
This item does not qualify for free shipping. However, normal shipping applies and there are no surcharges.