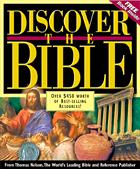 DISCOVER THE BIBLE from Nelson ($59.95)
39.95 9.95 On Sale!
TNP: 0-7852-0913-1

The affordable way to discover the exciting power of electronic Bible study. The perfect foundation for an unparalleled Bible Reference Library.

This easy-to-use library on CD-ROM puts some of the world's best-selling Bibles and reference works on your computer screen in seconds--including several at the same time at a fraction of their cost in printed form.

It's an enviable collection of some of the world's most respected and widely used translations, study Bibles, cross-reference tools, dictionaries, atlases, word study tools, commentaries, and more. But this collection goes one important step further: it allows you to quickly and easily work between different resources --cross-referencing, comparing, searching, and adding new depth to your study. And you can do it in less time so you spend more time where it counts - discovering the wonderful world of the Bible.

And like any useful reference library, this one can be expanded and updated. The core of this remarkable collection is the Logos Library System Software, a highly acclaimed electronic library system that allows you to economically, quickly, and easily add additional volumes to your library as your needs change.

Nelson's Discover the Bible establishes a new standard for quality and value. And this unique combination of scholarship and powerful software gives you the key to unlocking the wonders and mysteries of the Bible!

Includes:
American Standard Translation
Contemporary English
King James
King James Apocrypha
New King James
New Living Translation
New Treasury of Scripture Knowledge
Where To Find It In the Bible
Strong's Numbers Enhanced with Brown, Driver, Briggs and Thayer Lexicons
Nelson's New Illustrated Bible Dictionary
Believer's Study Bible
Matthew Henry's Commentary on the Whole Bible, Complete and Unabridged
Nelson's 3-D Bible Mapbook
Nelson's Bible Map Collection
Visual Survey of the Bible
Imitation of Christ by Thomas A Kempis
Pilgrim's Progress by Bunyan
100 Midi Hymns
Morning and Evening by Charles Spurgeon
Immediate access to essential Bible Reference resources.
UNLIMITED EXPANDABILITY: It's easy to add future titles to be released by Nelson or other Logos Library System publishers.
EASY-TO-USE: Maintains Windows look and feel -- and user is up and running in minutes.
GREATEST VALUE: Over $450 in print costs! A savings of more than 70%!
Search features provide rapid location of Bible verses, application notes, and topics of interest.
Free Book included!