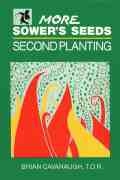 MORE SOWER'S SEEDS, Second Planting by Brian Cavanaugh, TOR +
7.95

One hundred new tales of inspiration filled with humor, warmth and insight. Ideal as a gift book or as a cource of bedtime meditations. By Brian Cavanaugh, T.O.R.

This item does not qualify for free shipping. However, normal shipping applies and there is never a surcharge.