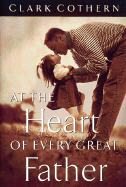 AT THE HEART OF EVERY GREAT FATHER by Clark Cothern ($11)
8.95

Illustrated with powerful, hard-hitting stories, this book shows men how to be truly great, Christian fathers. By Clark Cothern. 220 pp.

Clark Cothern is the senior pastor of Trinity Baptist Church in Adrian, Michigan. A frequent contributor to magazines like Decision, Discipleship Journal, and Leadership, he is also the author of Detours and At the Heart of Every Great Father. Pastor Cothern earned his master of arts in communication at Southwestern Baptist Theological Seminary in Fort Worth. He lives with his wife, Joy, and their three children.