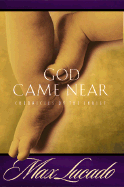 GOD CAME NEAR by Max Lucado ($12.99)
9.95

"There is a story about a group of climbers who set out to scale a large mountain in Europe. On clear days, a breathtaking peak of snowcapped rocks reigned as king on the horizon, inviting admiration and offering inspiration to the climbers. On days like this, the hikers made great progress. They climbed as one, all looking to the same summit. Yet, on some days, the peak was hidden from view. Then the climb became arduous. Eyes were cast downward, the goal forgotten.

We are like that. As long as our goal is within eyesight, htere is no summit that we can't scale. But take away our vision, and discouragement results.

That's why God came near: to be seen. When we understand how close he is, we can know that we will reach the top. We just need to keep climbing." (From the book flap) Includes Bible study questions for discussion and reflection, as well as related Scripture passages for each chapter. 204 pp.

Contents:

Part I - HIS INCARNATION

"And the Word became flesh..."
1. The Arrival
2. "Just a Moment..."
3. Absurdity in the Flesh
4. Mary's Prayer
5. Limb-Climber or Branch-Sitter
6. Twenty-Five Questions for Mary
7. Christmas Night
"and dwelt among us..."
8. Out of the Carpentry Shop
9. "Just Call Me Jesus"
10. Women of Winter
11. When God Sighed
12. The Question for the Canyon's Edge
"full of grace and truth..."
13. A Tale of Two Trees
14. No Accident
15. Rediscovering Amazement
"and we beheld His glory."
16. Hope
17. Eternal Instants
18. What Do You See?
Part II - OUR IMITATION

"A student...who is fully trained will be like his teacher"
19. He Forgot
20. Facing the Facts
21. Light of the...Storage Closet?
22. Blind Ambition
23. Warnings
24. Father's Day: A Tribute
25. Family Sedans of the Faith
26. Insensitive Slurs
27. A Song in the Dark
28. In the Mud of Jabbok
29. A Little Bit of Hangin'
30. Carmelita
31. Seeing the Summit
STUDY GUIDE

Available in hardcover or soft. Please specify your choice when ordering. Prices are as follows:
Softcover: $9.95 (list: $12.99)(Save 23%!!)(#574-4)
Hardcover: $13.95 (list: $19.99)(Save 30%!!)(#610-4)