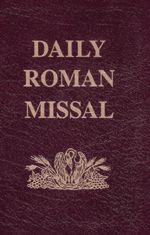 DAILY ROMAN MISSAL (from OSV)(2011 edition)(with free shipping) ($74.95)*
64.95 57.95 On Sale!
OSV: 978-1-61278-509-7 (T1213)



Publication Date: December 1, 2011

The Daily Roman Missal, Third Edition includes prayers and readings to all Sunday and daily Masses in one volume. The Mass prayers in this new edition are updated according to the Revised Roman Missal Translation.

Other changes include:
Larger type, making it easier to read.
All the readings for the day are included in each entry.
Both the long and short forms of readings are printed.
Illustrations from illuminated manuscripts grace the pages.
Sixteen new saints in the Church's calendar of feast days are included.
Relevant passages from the Catechism of the Catholic Church offer an educational perspective on the liturgies for Sundays, feast days, and solemnities.
The Daily Roman Missal, Third Edition, durable and beautiful with a burgundy padded leather cover and 6 ribbon markers, is both a tool and a treasure for any Catholic who wishes to learn about, love, and live the Mass more fully. 2496 pages.
Have you considered a zippered Leather cover specifically sized for your Daily Roman Missal? Just click on the link above and select item #9779.
(Purchase of this title qualifies for the free shipping option without additional purchase if it is being offered at the time of your order.)