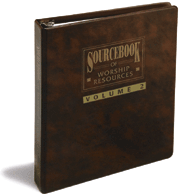 SOURCEBOOK OF WORSHIP RESOURCES (Volume 2)($49.95)+
44.95
CR: SBWR2

Contains a wide selection of Calls to Worship, Invocations, Prayers of Confession, Litanies, General Congregational Prayers, Benedictions, special liturgies, etc. Over 200 pages of material to simplify worship preparation and enhance your services. May be ordered with either an IBM or MAC disk. Please specify your preference in your order.

Also available as a set with Volume 3 for $84.95 (list: $99.90). Please indicate your preference when ordering. If ordering the set, the price will be adjusted upon receipt of your order, but will not be reflected on your program-generated receipt.

This item does not qualify for free shipping. However, normal shipping applies and there are no surcharges.