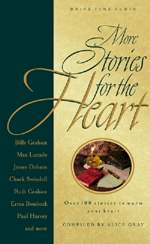 MORE STORIES FOR THE HEART (Compiled by Alice Gray)+
12.99

Another treasury of timeless tales written by some of today's best Christian communicators. Offers encouragement, compassion and love certain to minister to your congregations and nourish their souls. Leave them with something to remember each week! By Alice Gray. 300 pp.

This item does not qualify for free shipping. However, normal shipping applies and there is never a surcharge.