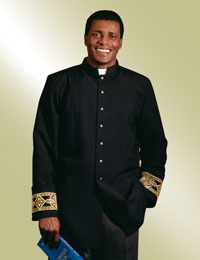 CLERGY JACKET H-95 (Black)(with free shipping)
259.95 244.95 On Sale!
MUR: H95

Casually tailored, this Clergy Jacket provides new options for the contemporary pastor. Wide Satin faced banding with gold metallic highlights add a special touch to the wide cuffs. Tailored in Viva and fully lined with an inside vest pocket. A removable clerical tab is included for insertion into the front opening of the standing collar. Men's sizes only. Made in USA.

Click here to view our Size Chart for Men to find your jacket size. Helpful guidelines for determining your measurements are located on the How To Measure page. Now available in Quik-Ship sizes with the banding as shown in the picture above. Just provide your chest size, waist, neck size and shoulder length in the text box provided on the order form.

The Guarantee of Quality means that any custom tailored item you purchase will be tailored in the size, style, fabrics, and colors indicated on your order. If the item does not meet the specifications we have stated, or is found defective in workmanship or materials upon delivery, we will repair or replace the item at no charge within 10 days of receipt.

Custom Jackets of this style are available with delivery in 6 to 8 weeks in your choice of sizes, etc. for $329.95 (list: $350)(MR287). Please contact us for more information via our toll free number at 877-432-6745.

Have you considered a Garment Bag for your new robe or alb to keep it dust-free and for travel?

Free ground shipping is available in the continental US. If international or expedited shipping is required, the free shipping offer does not apply.