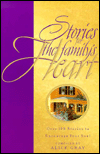 STORIES FOR THE FAMILY'S HEART (Compiled by Alice Gray)+
12.95
MUL: 1-57673-356-4

This treasury of family stories continues in the style of the two previous best-sellers by Alice Gray, Stories For the Heart and More Stories For the Heart, both of which have been featured on Billy Graham's national television broadcasts. Her tender stories deliver Christian values in a captivating and wondrous way that appeals to parents, grandparents, couples and single parents. Over 100 stories are divided into chapters with titles which include: compassion, encouragement, virtue, growing up, love, memories, grandparents and faith. Contributors include Max Lucado, Chuck Swindoll, Billy and Ruth Graham, Tony Campolo, Paul Harvey, Erma Bombeck, Philip Yancey, Robert Schuller, Liz Curtis Higgs, Barbara Johnson, Joni Eareckson Tada and Philip Gulley. 320 pp.

This item does not qualify for free shipping. However, normal shipping applies and there is never a surcharge.